---
Yukon Quest Awards
The animals that make the entire race possible are not forgotten amongst all of the awards given. The Golden Harness Award is presented to the winners lead dog.
The most important rule of the Yukon Quest is the sportsman's rule. This award is presented to the musher exhibiting the best sportsmanship along the trail. This selection is made by a vote from fellow mushers. The winner takes home The Sportsmanship Award.
Dawson City was the home of "The Greatest Gold Rush the World has Ever Known" and the first musher into Dawson and who completes the race receives 4 ounces of gold, The Dawson Award.
The Challenge of the North Award is presented to the musher who most exemplifies the "Spirit of the Yukon Quest", a spirit that compels one to challenge the country and win. This award is voted on by the Race Officials.
The Vets Choice Award is presented to the musher who demonstrates the most humane treatment and overall care for the dogs throughout the race in the best spirit of the Yukon Quest. This award is a legacy for aspiring mushers to emulate in the humane treatment and care of their dogs. This is voted on by the Race Veterinarians.
The Red Lantern Award upholds the tradition of sled dog racing and a red lantern is presented to the last official finisher.
In 1992, The Rookie Award was awarded for the first time. This is presented to the highest place official finisher who has never before reached Dawson City, the halfway point from either side.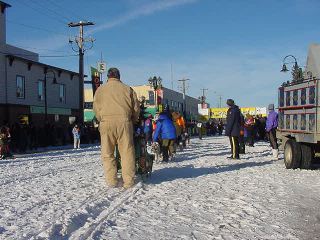 ---
Source URL: https://www.distlearn.ca/yukonquest/content/yukon-quest-awards#comment-0